Sometimes having a vagina can feel like driving a car with no real idea what's going on under the hood. From periods, to BV, to Bartholin's cysts, to bladder infections (and of course the bedroom!) there can be a lot going on down there. Likely, your sex ed as a young person was woefully insufficient. So now what do you do as a grown adult with a vagina?
Take an – ahem- deep dive into the vagina with some excellent podcasts!
Hi, I'm Robin and I use they/them pronouns. I am a Sex Sense Supervisor and many people call and email us to ask questions about their vaginas. People also like to know where we like to learn new sexual health information so today we are sharing our favourite podcasts.
The Vagina Museum Podcast
We highly recommend The Vagina Museum Podcast. As they tell us in Episode 1 of the 2nd season: "Yes, that's right, there is a Vagina Museum, the world's first bricks and mortar museum dedicated to vaginas, vulvas, and the gynaecological anatomy. You can find us in our London home and online, where we're working to build a world where no one is ashamed of their bodies, everyone has bodily autonomy, and all of humanity works together to build a society that is free and equal."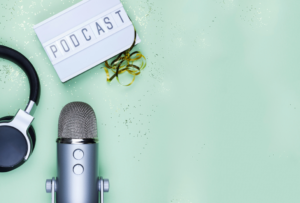 The whole two seasons of The Vagina Museum are worth listening to. You will remove your ear buds with a whole new appreciation for that part of the body. And maybe a whole lot of fun facts to share at upcoming social events! In Season 1 there are 3 episodes of "Muff Busters: Vagina Myths" and a great one on pubic hair.
Season 2 covers periods and pelvic pain. These episodes are stellar and should be required listening for all vagina owners (or vagina drivers)!
What makes the Vagina Museum podcast so great?
• It's inclusive! We love that the podcast states: "…at the Vagina Museum, we are all about vaginas and people with vaginas, no matter their gender. You'll hear us using gender-inclusive language unless we are specifically talking about women."
• Amazing guests! In the Welcome to Your Period episode, the expert is writer and peer educator, Tara Costello. Tara is the author of Red Moon Gang: An Inclusive Guide to Periods – a favourite book of ours inspired by their own experiences navigating their period.
• It's funny!
• It's mind-blowingly informative. You will learn many things you don't know. Wait till you hear the Space Gynaecology episode: "In this episode, Varsha Jain MD, PhD talks about her research into menstruating astronauts and how that led her to study heavy bleeding on earth."
We also love that you can read the show transcript on the webpages and see the references. There are also suggestions for further reading.
Jen Gunter's Body Stuff Podcast

After binge listening the two seasons of the Vagina Museum podcast, you may want to download one of Dr. Jen Gunter's Body Stuff episodes such as "Got yeast?"
Dr. Jen Gunter is the celebrated Canadian gynecologist. She is also the author of two of our favourite, highly-recommended books. The Vagina Bible is absolutely our go-to for all questions vaginal, and the awesome The Menopause Manifesto for all things menopausal. They are available at your local library and bookstore and on audiobook, so let the listening and learning continue! Enjoy!