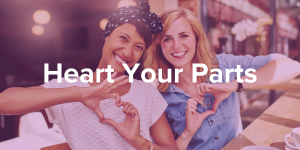 We get it- it's summer, and most of us aren't ready to start thinking about September quite yet.
BUT here at Options for Sexual Health, it is ALL we can think about! We are so excited about our 2019 Heart Your Parts Breakfast on September 20th, we thought we would help get you excited with our Top 8 Reasons to Join the HYP!
TOP 8 REASONS TO ATTEND THE 2019 HYP BREAKFAST
Breakfast is the most important meal of the day! And when partnered with sexual and reproductive justice, it's just that much better!
You love cup-filling causes – especially when the cup is being filled with delicious coffee! Our HYP Breakfast is sure to leave you feeling inspired and fully caffeinated!
You want to share the morning with 200 other like-minded people. We love our supporters! The folks who attend our breakfast year after year are people who share our values, and believe in our mission: To champion and celebrate the sexual health of all people in BC by supporting, providing, and promoting inclusive and accessible health care and education.
"My Body, My Choice" resonates with you, too!  This year, our theme for the HYP Breakfast is "My Body, My Choice", and we will turn our focus to sexual and reproductive justice, and on access to abortion in B.C.
What's happening south of the border makes your voice even more important here in Canada. You're willing to take action to keep sexual and reproductive rights, justices, and freedoms in Canada.
A little swag can go a long way! Especially when the swag has Options for Sexual Health new, spiffy logo on it!
This fundraiser makes a difference to our clients and patients! The money raised from the HYP Breakfast directly supports the work we do in communities throughout the province and improves access to sexual and reproductive health care, education, and information.
Sexual and reproductive health is important to everyone. And that's why you want to support Options for Sexual Health, and continue to improve access to care throughout the province.
Early Bird tickets are on sale now!
What is HYP?
The HYP Breakfast is our annual fundraiser and brings those involved in the sexual health, social activism, and social justice communities together to focus our attention to sexual health awareness, advocacy, and celebration. Every year we look forward to providing an engaging event that inspires people to take action and advocate for access to sexual health services and information. Join the HYP, and show your support for sexual and reproductive justice in British Columbia!
Get Your Early Bird HYP Tickets Now!
New Date! 
We know you might have been wondering why we changed the date when all of the past five HYP breakfasts had taken place in February during Sexual and Reproductive Health Week in Canada. This year, we decided to utilize Sexual and Reproductive Health Week to get active in our communities, including education, outreach, and community services. After reviewing feedback from previous years, we opted to move our breakfast to September so more people could attend, and not be in conflict with Valentine's Day.
New Location!
We also have a new location for 2019: although we have thoroughly enjoyed our time at the Marriott Hotel, we started to look at locations that were more accessible for our attendees. We are thrilled to announce our HYP Breakfast has found its new home at the Italian Cultural Centre! This venue will allow us to grow our event while also providing ample transit options, free parking, and accessible venue for all of our guests. Accessibility details are on the Eventbrite ticket page, and we will continue to add information as it becomes available.
Join the HYP on September 20 and support sexual and reproductive health in BC!