We have two big announcements about our Heart Your Parts Breakfast and we can't wait to share them with you! This year, with our theme of My Body, My Choice, we made the very intentional decision to honour folks who are abortion providers based on the push to limit reproductive rights south of the border, and more broadly the conservative agendas in Canada that seek to limit things like sexual health education.
Sexual Health Champion for 2019

We are so pleased to share with you the announcement of our 2019 Sexual Health Champion! For their ongoing commitment to sexual and reproductive health, as well as demonstrated leadership, innovation, and collaboration in sexual and reproductive health, this year we are celebrating Willow Clinic.
As a long-standing progressive reproductive health clinic in Vancouver, we are thrilled to be honouring Willow Clinic for their tremendous contribution to sexual and reproductive health in B.C. Willow Clinic has many years' experience offering medication abortion, particularly in the time when there were few other facilities offering this option (most others offered aspiration abortion only until mifepristone became available in Canada in January 2017). This presented pregnant people with a choice that was lacking.
Willow also provides medication abortion by telemedicine for those who cannot easily access appointments in their communities. This increases access in smaller, rural and remote communities and well as privacy and confidentiality for some pregnant people. This incredible team of passionate professionals provide a safe and comfortable environment for all people who need care.  They are also incredibly proud of the over 400 IUD insertions they do each and every month.
With all that they have contributed to sexual and reproductive health in BC, we invite you to join us in celebrating Willow Clinic as this year's Sexual Health Champion!
How do we pick a Sexual Health Champion?
Our Criteria
A Sexual Health Champion is worthy of recognition for outstanding contributions in sexual health, and whose work has positively impacted sexual health and sexuality.  Ideally, a Sexual Health Champion is an individual or group who furthers our vision and mission.  They also embody what sexual and reproductive justice are all about, and excites, informs, and inspires.
Leadership: The candidate demonstrates leadership in sexual and reproductive health in their community, medical system, or across social justice systems.  Activities may include a clinician, researcher, advocate, or educator, whether in their community or practice/clinic creatively promoting care and or policy change for sexual and reproductive health services in BC and beyond.
Collaboration: The candidate has worked to build support for and increase awareness of sexual and reproductive care/rights/justice.  Activities may include establishing or strengthening partnerships, coalitions, committees, working groups, or other programs.
Innovation: The candidate has used creative or innovative strategies to promote sexual and reproductive health services or address challenges to service delivery related to sexual and reproductive health care in their practice, health system, community, state, or region. Activities may include both new strategies and adapting existing strategies in new ways.
Keynote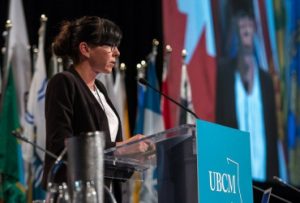 Our amazing MC Kathryn Gretsinger will be joined by the inspirational Andrea Reimer as our 2019 keynote speaker! 
After serving for four terms as a City of Vancouver Councillor, Andrea Reimer has embarked upon a new journey, and after her experience as a Loeb Fellow at Harvard Graduate School of Design, she has returned to Vancouver working at both UBC and SFU. To quote Andrea:  'I write. I speak. I teach. I organize. I mobilize. Unapologetic urbanist, fierce feminist, deeply engaged, bright green.' We loved her recent article in the Canadian Observer, Surviving the Shattered Glass Ceiling.
Inspiring, innovative, collaborative champions for sexual and reproductive justice; this is what our Heart Your Parts Fundraising Breakfast is all about on September 20th. We hope to see you there!