Kathryn Fitzgerald, our Board President, wanted to take a moment to share her appreciation for our fabulous RNs and to give you some insight into the type of work they do at our clinics.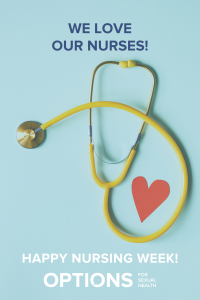 I recently learned that May 12 is the anniversary of Florence Nightingale's birth. It is a day that is internationally recognized to elevate, champion, and honour nursing as a profession; and nurses as forces of nature. This year, perhaps more than others in our history, nurses have represented the face of strength, resilience, and humanity.
As President of the Board of Directors at Options for Sexual Health, it's my pleasure to brag about the amazing team of nurses that allow Options to provide sexual and reproductive health care, education, and access in over 50 communities across this province. Our team at Options, many of whom work during the day in the regular health care system, found ways to continue to deliver face-to-face service when many services went online. Committed to non-judgmental, compassionate care, our professional and highly skilled nurses made sure that the vulnerable nature of sexual health care was held safely. 
Some of you may not be aware that our Options nurses are special for many reasons. The list below outlines some, but not all of the many areas in which our nurses provide such amazing support.
They have chosen to provide contraception and STI care, taking advanced courses that allow them to work autonomously (so important in those rural communities where doctors are hard to find). 

They have decided to take an 'Options' approach to care – if someone needs 30 minutes because they are anxious about what's going on, they take the time needed.

Many of them are educators – seeking to increase knowledge and awareness, taking a sex-positive approach to sex ed.

Many play a role in helping youth in almost every school district answer some really intense questions on the McCreary Adolescent Health Survey (38,000 of them in 2018!).

They never seek out accolades for their work because their work with us is driven by their passion and a belief that choice is an important component of equity.
On behalf of the Board of Directors, I applaud and acknowledge you all and extend our extreme gratitude for the dedication and perseverance you have demonstrated over the past year. Thank you for all you do to support choice throughout the province. Your actions and contributions over the past year have been extraordinary. You truly are health care heroes!