Are you looking for a fun way to support sexual health? This Giving Tuesday, we are kicking off a month-long fundraiser! Whether you're a long time Options supporter, or new to our services, we invite you to wear your values and support for sexual and reproductive health!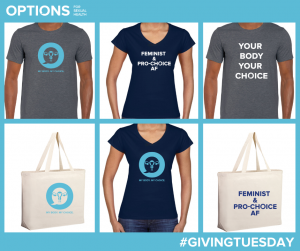 Some of you may have noticed the recent photos on our social media streams of our volunteers and staff rocking amazing t-shirts. We received such great feedback on them that we decided to share them with you, and now you can own your very own t-shirt as part of our Giving Tuesday fundraiser! We are working with Coastal Reign (a local company) to bring you three designs to choose from. Click here to see the designs!
With three different designs on two different t-shirt styles and two fashionable colours, we are sure we have something you'll like. Not into a t-shirt? We've got extra large tote bags, too! Whatever it is that you decide upon, know that the funds will be supporting sexual and reproductive health, rights, and freedoms in British Columbia. And that's something we can all feel good about on this Giving Tuesday.
Fine Print:
Shirts are created and shipped once the fundraiser closes on December 31st, 2019. Shipping within Canada is included but International orders may incur additional shipping.
Looking for other ways to support Options for Sexual Health?
Check out information on donating and volunteering.
We are grateful for your support!