A fall colouring contest to channel your rage? Yes, please! We love getting rage crafty!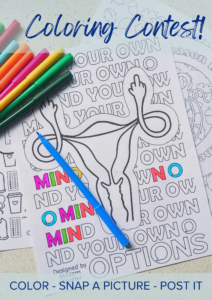 We've partnered with Modern Knotter (who also happens to be one of our amazing staff members!) to bring you Rage Crafting: The Fall Colouring Contest Edition!
How it works:
First: Choose one (or all three!) of the colouring sheets below, download, and print!
Second: Colour your rage into some beautiful art
Next: Enter for your chance to win a prize! Snap a photo and add to social media – make sure to tag Options for Sexual Health and Modern Knotter on your photo. Contest will end at 11:59 p.m. on November 2nd (and you don't have to enter if you just feel like colouring to your heart's content!).
Finally: (optional and also important!) Choose a sexual and reproductive health, rights, and justice organization (i.e., Options, NAF, ARCC, EWHC) to donate to, to help channel that rage in a productive and supportive way! Donations are not required to enter the contest, but we know taking action in the fight for reproductive justice is always a good thing!).
We can't wait to see your artwork! Don't forget to tag us and add #RageCrafting to your social media shares!
Option 1: Pumpkin Spice
Option 2: Mind Your Own Uterus
Option 3: Fall of the Patriarchy
Note: this contest is in no way affiliated with Instagram or any other social media platform. Prizes provided on behalf of Options for Sexual Health and colouring pages are original designs of Modern Knotter.