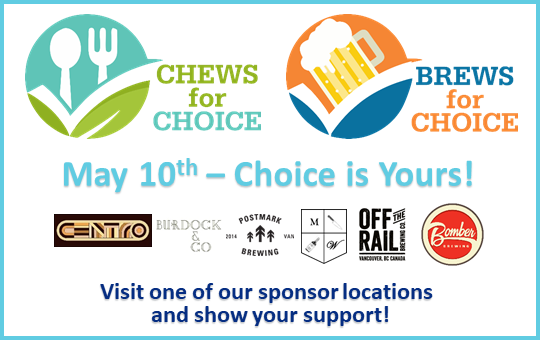 Today is the day! We are celebrating Chews and Brews for Choice— an opportunity for people to choose to support Options for Sexual health, or not. At our participating restaurants and breweries, the choice will be yours!
Options for Sexual Health is BC's Planned Parenthood, and our mission is to champion and celebrate the sexual health of all people in BC by supporting, providing, and promoting inclusive and accessible health care and education. That includes access to prochoice pregnancy options. This is an opportunity for those in Vancouver to choose to support Options for Sexual Health and raise awareness and support for sexual and reproductive rights.
Unable to make it out to one of our sponsors this evening but want to support Chews and Brews for Choice? You can donate through our website by clicking here!
We are so appreciative of our sponsor locations:
Update: BierCraft is unfortunately not available for Chews And Brews this year but are in for next year with all three locations! Instead please choose one of the other three fabulous restaurants: Burdock & Co, Centro, or Merchants!
We hope to see you there!
Want to share your experience on social media? Use #ChewsForChoice #BrewsForChoice or #ChewsAndBrews and tag @OptionsForSexualHealth on Instagram and @optbc on Twitter!